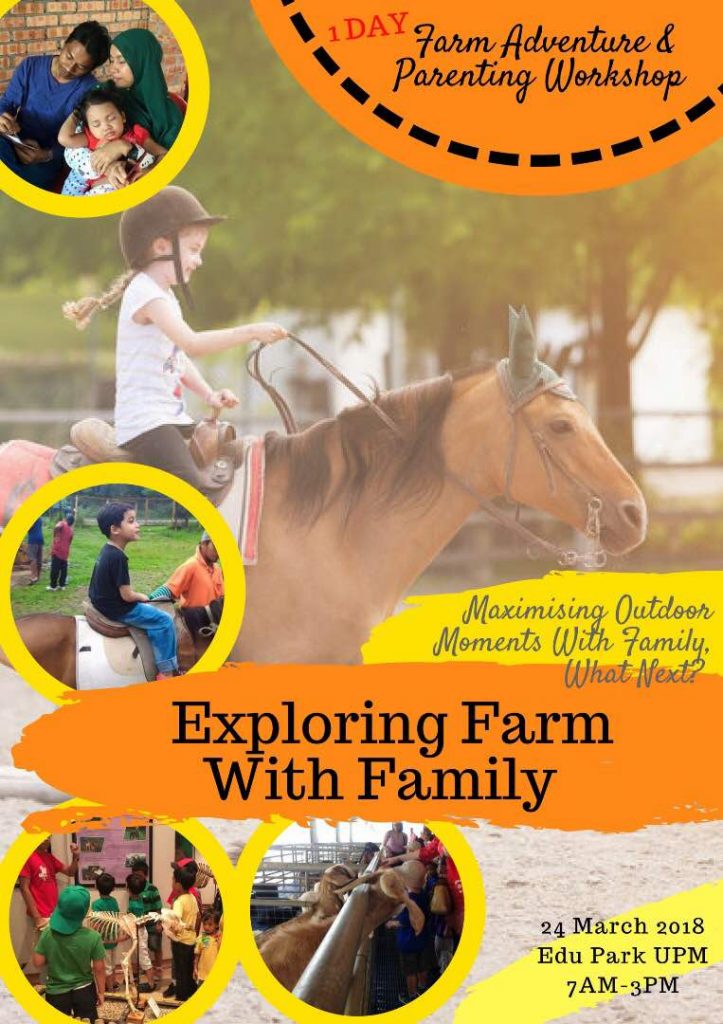 ? Exploring Farm & Parenting Workshop ?
?A one day family farm adventure and parenting workshop in a single event.
The programme will highlight exciting farm activities featuring horse riding, dissecting horse anatomy virtually, bathing the horse and feeding the rabbits, turtle, rabbits and lots more.
After lunch, parents will be empowered with practical parenting skills and knowledge from the expert, lead by Pn Noor Hayati.
The theme will be Maximising Family Outdoor Experience, What Next? Kids will be entertained with supplemental module from the farm activities.
? 24th March 2018, Saturday
? EDU PARK UPM
? 7.00am-3.00pm
Session 1 : Horse Station (Unit Berkuda UPM)
? Knowing Horse Anatomy System
? Feeding the Horse
? Bathing the Horse
Session 2 : The World of Animal (Animal Park)
?Horse Ride
?Feeding of :
?Goat, ?Turtle and ?Bird
and more animals around you ?????
Session 3: The Animal Doctor ! (Muzium Fakulti Perubatan Veterinar UPM)
??‍♂Explanation about animal anatomy systems
? Interactive Screen: Virtual Animal Surgery
Session 4: Parenting Workshop
Maximising The Outdoor Experience With Family, What Next? by Pn Noor Hayati Binti Abdul Hamid, Director of NALURI Excellence Systems, Principal Consultant NLI Education Sdn Bhd
Puan Noor Hayati Abdul Hamid is a mother of 7 children and 15 grandchildren.
She founded NALURI Excellence Centre 25 years ago and is now the Director of NALURI Early Excellence Systems, and the Principal Consultant of NLI Education Sdn Bhd.
She has been active is parenting and early childhood education for 37 years. She has been actively giving lecture, conducting trainings and workshops for parents and teachers.
See her live at UPM this 24th March 2018. Make this holiday a unique family adventure!
Meals Included in the package
Breakfast
Lunch
Please come with own transportation. The Meeting Point is at Edu Park UPM?
?For Registration click this link:
☎?Any inquiries please contact Cik Nadhrah http://www.wasap.my/6011-56671603